Successful people inspire the rest of us to achieve the same level of success. We find ourselves closely analyzing their lives and the choices they made hoping to follow their trajectory.
Success does not come easy. It takes a lot of hard work, dedication, sacrifices and constant struggle to make it to the top. And while we would like to know every little thing that could lead to success, there are some things the rich and famous make a point not to broadcast to the world.
Oversharing information about our lives can end up hurting our journey to the top in the professional world. While it is important to develop an extensive professional network; success in the professional world hinges on striking the right balance between pleasant conversations and avoiding oversharing.
Sometimes you have to avoid your emotions from bubbling up to the surface to keep your integrity at the workplace intact. Other times you have to make a conscious effort to keep a check on not revealing information about certain aspects.
6 Things You must Keep Secret to be Successful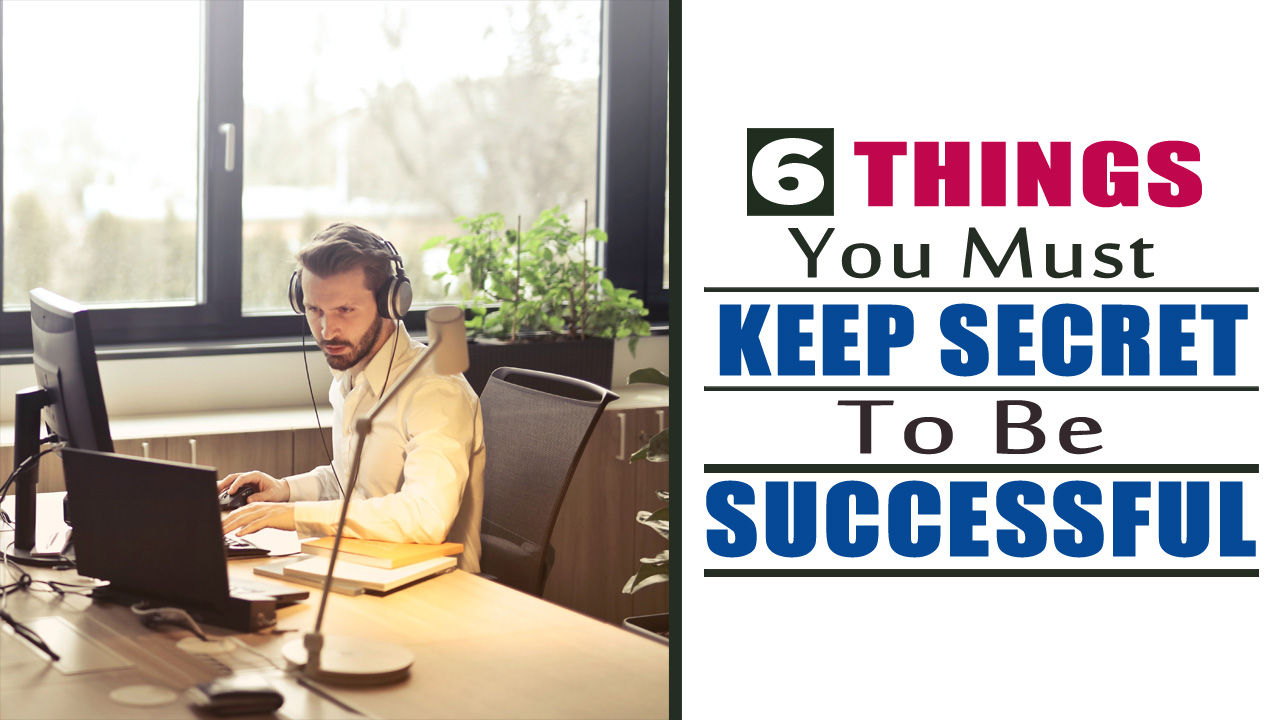 Here are the 6 things that should best be kept secret to climb up the corporate ladder:
1. You Are Having A Bad Day
There are days when things just don't work out. Days when you feel like you are at the end of your rope. It is important to keep your emotions in check at these times. Do not take your anger or frustration out on your colleagues or your subordinates.
If you are in a leadership position it makes you look weak and you will lose respect from others. If you are an employee, losing control of your emotions makes you look like you are not a good team player and you will lose your reputation.
Companies want people who remain level headed in stressful situations. Keep your head even if things seem to be going south.
2. How Much Money You Make
It is never a good idea to share your salary figures with co-workers. Salary allotment differs for each worker and discussing your salaries only leads to problems. If you are earning better it may evoke jealousy or bitterness. Others may question your credibility. Your input may get judged more severely than others.
If you discover you are earning less, it will affect your morale. You won't feel motivated to put in your best and rise above. Swapping salary figures never has a good outcome so if the question comes up; keep a distraction in mind to change the course of the conversation.
3. Your Past Mistakes
We all make mistakes that we learn from. But unless it is something seemingly harmless that would not cast doubt on you possessing sound judgment, don't bring it up. There is a difference between hanging out with your friends and a professional environment.
Resist the urge to share some outlandish anecdotes from your past just to liven up the conversation. You may be aware of how much you have changed since those days of tomfoolery but others do not. Best not to give fodder to someone's suspicions of your abilities.
Some things are best forgotten in the past.
4. Your Future Plans
Planning to switch to another job? Or taking your business venture in a new direction?
Best to keep it to yourself until things are finalized. Airing information about your future plans which are in the works only makes others form an opinion of you before you make the transition. If by any means your plans do not work out, you are stuck with a new label.
For example, if you are looking for a job but haven't found one yet, sharing this information with colleagues or your employer will prompt them to pass you up on an important project. If you fail at securing another job, you will have to work extra hard to regain your standing. So keep your cards close to your chest.
5. Your Political and Religious Beliefs
A person's political and religious beliefs are very deeply rooted. Often times our entire lives are centered around these beliefs. So it is never a good idea to get into a heated debate with someone at the workplace on such sensitive topics. Chances are you will end up rattling quite a few cages and hurt your image.
People may have the best opinion of you but once they feel their core values threatened they would end up seeing you in a completely different light. It is best to stick to lighthearted topics when trying to connect with others at the workplace. Avoid discussing sensitive issues; you never know when you might ruffle some feathers.
6. The Things You Share On Facebook
The memes you share on Facebook, your conversations with others in the comments and candid photos can impact the way your colleagues or employer perceives you. When you start a new job your professional relationship with others is fairly new. There is very little that they know about your personality.
Your Facebook profile presents an unfiltered version of you which may become the only information the people at your workplace have to form an opinion of you. So it is best not to risk tainting your reputation with some memes you might find hilarious.
Keep LinkedIn for professional networking and save Facebook for friends and family.
Summary
Here's a quick recap of 6 Things You must Keep Secret to be Successful:
You Are Having A Bad Day
How Much Money You Make
Your Past Mistakes
Your Future Plans
Your Political and Religious Beliefs
The Things You Share On Facebook
Want to say something about 6 Things You must Keep Secret to be Successful? Leave your comments below.